About MedLite ID Smart-Lites
The MedLite goal is to help reduce infusion ADE and infectious disease exposure time and provide a smart, simple, safe solution for the nurse and the patient.
MedLite helps ensure the primary medication infusion line -- the saline safe line, or SSL, used for intermittent medications, electrolytes, and antibiotics – is illuminated and differentiated from all dedicated drug lines.
MedLite is recommended for patients with four or more IV lines. The Lites are single-use, disposable devices and will last about 96 hours, tied to INS line-change guidelines. Lites may be disposed of in non-hazardous waste.

How to Activate Smart-Lites
Each 3-Lite set is packaged within a detailed IFU and includes a label with a URL link and QR code to this training video. The label should be placed on the IV line just under the first MedLite Smart-Lite.

STEP 1: To ACTIVATE the Lites, remove each Lite from the strip, leaving each Lite's clamshell open. Batteries will activate and start to blink during auto-pairing, then turn off.

STEP 2: Before connecting the SSL to your patient, ATTACH the Lites to the line, pressing each into the center grooves at the top, middle, and bottom of each LITE, ensuring no kinks. Do not connect the Lites to an already hanging IV line.

STEP 3: To LOCK the Lites, close the top of each light until it clicks.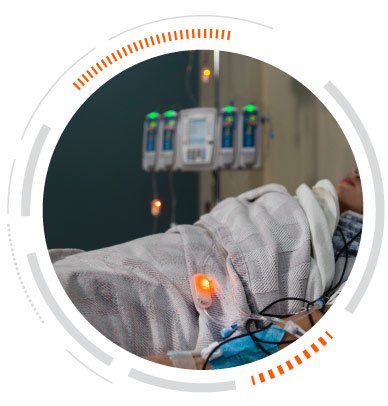 Apply the first Lite below the drip chamber at eye level.

Apply the second Lite below the infusion pump (or the middle of the IV line if applying to a gravity set). On lines 3.0-4.2mm outer diameter, the Lites will be "firm fit"; on lines less the 3.0, they will be "slip fit."
Apply the third Lite prior to the venous access catheter port.
Hang this IV line per standard hospital protocol.

To use the Lites, press the button on any one Lite to illuminate all three for about 50 seconds.

Lites turn off automatically and last about 96 hours. Tied to INS line-change guidelines.

Lites are non-sterile and may be disinfected with 70% IPA wipe, Sani-WipesTM used as directed, or germicidal bleach

Lites may be disposed of in non-hazardous waste.